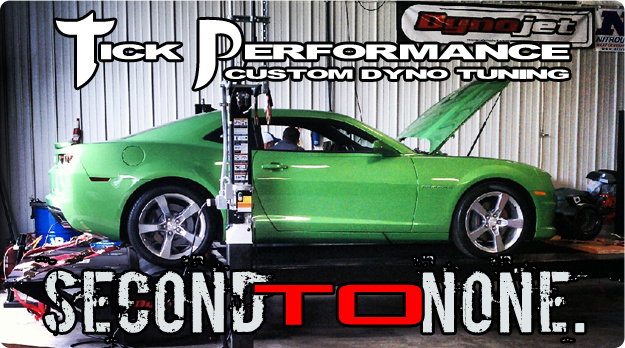 Chris' ProCharged 2011 Camaro SS on our DynoJet 224xLC
From Bone Stock to 1000+ HP Street & Race Cars - We Tune It ALL

When it comes time to get your vehicle tuned, the popular saying rings true: you get what you pay for. Do you REALLY want the cheapest tune you can find?
What's So Great About Tick Performance Tuning?
In business since 2003 and handling 100% of our tuning here in-house since 2012, it's safe to say that we've got PLENTY of the most important factor when tuning: EXPERIENCE. We've tuned hundreds of GM EFI vehicles from mild to wild, including multiple 1000+HP forced induction setups using all GM PCM/ECU's in practically EVERY vehicle platform. We're not just talking about street cars, either: we support multiple drag racers, road racers and even drift racers.
When we strap your vehicle down to our dyno for a tune, it won't come off until we've arrived at the setup that allows for the most horsepower and torque without sacrificing safety and reliability.
"Our tunes are so much more than just a dyno session to dial in the wide open throttle performance."
- Jonathan Atkins, Owner & Chief Tuner
Unless your vehicle is stock or very slightly modified (bolt-ons), we require the vehicle be here on-site for at least two days. Why? A proper tune can simply not be performed "while a customer waits" on an application that has been anything more than slightly modified. After the dyno session is over, our tunes include multiple cold starts that allow us to dial-in how the vehicle starts, as well as fine-tune the Air/Fuel Ratio during warmup. Our tunes also include significant time on the street tuning shift points for the best feel, economy and performance at wide-open-throttle.
A Tick Performance Custom Computer Tune offers significant increases in horsepower, torque, driveability and in many cases fuel efficiency not only for modified cars, but even on factory stock vehicles!
Satisfaction Guarantee: we guarantee that you'll be happy with your custom tune from Tick Performance, and we stand behind our work 100%. This means that if you have any issue at all with your tune, bring the car back and we'll check it out for free.
If the issue requires your vehicle going back on our dyno, we'll do that for free, too. Even though our DynoJet 224xLC is capable of being loaded to simulate real world driving, sometimes the drag strip presents issues that can't be emulated on any dyno. If the issue only occurs at the racetrack, we'll go to the racetrack and work on it there.
No "re-strap" fees. No "track visit" fees. No BS. You're going to be 100% satisfied with your Tick Performance Custom Computer Tune when we're done; if you're not satisfied, we're not done.
Tuning Prices for Tick Performance Built Vehicles:
If we performed the build on your vehicle or engine, our tune pricing varies based on the modifications that have been performed:
1997+ GM LSx or Generation V LTx Applications
Factory Stock or Modified with Simple Bolt-ons: $350.00
Naturally Aspirated with Aftermarket Camshaft, Cylinder Heads, etc: $500.00
Boosted Applications with Stock Camshaft: $500.00 with or without Methanol
Boosted Applications with Aftermarket Camshaft: $600.00 with or without Methanol
Boosted Applications Scaled with Multiple Boost Levels Set via Boost Controller or for Multiple Fuels: $750.00
Nitrous Applications: Appropriate N/A Tuning Fee plus $100.00 per hour for dyno time spent specifically dialing in the nitrous (jet changes, fuel pressure adjustments, flowing fuel pressure, etc.)
Aftermarket EFI Applications (including Holley, FAST, MS, etc) MEFI or GM Chip
1992-1997 GM Generation II LTx Applications
Factory Stock or Modified with Simple Bolt-ons: $400.00
Naturally Aspirated with Aftermarket Camshaft, Cylinder Heads, etc: $600.00
Naturally Aspirated Speed Density Tunes: $700.00
Boosted Applications: Call for Pricing

1999+ GM Truck & SUV Applications
Fuel Mileage/Shift Point Tuning for Stock Camshaft: $300.00 (No Dyno)
Upon request, for any Tick Performance Tuning customer, we will travel to a drag strip in our area and perform "fine-tuning", which could include monitoring the air/fuel ratio with our wideband, dialing-in the shift points of electronically operated transmissions, etc. This is a one-time service that every Tick Performance tuning customer can take advantage of for no additional charge!
Re-Tuning (all applications)
Many customers get Tick Tuned and then modify their vehicles further later on down the road, requiring more tuning. As long as our tune wasn't modified by a third party after we finished, we offer re-tuning for new modifications at a discounted rate:
Re-Tuning a Previously Tick Tuned Car: $100.00 per hour (generally re-tunes take no longer than 2 hours)
If we did not perform the build on your vehicle (or we did not build its engine) our tune pricing is as follows:
Factory Stock or Modified with Simple Bolt-ons: $350.00 (or $400.00 for 1992-1997 GM Generation II LTx Applications)
Everything Else: $125.00 per hour or $800.00 per day
The $125.00 per hour or $800.00 per day charge will include labor for small changes or repairs performed by the tuner, including changing spark plugs, fuel filters, repairing exhaust leaks, etc. Parts not included. To minimize your expense, please follow our pre-tune checklist, outlined below.
Pre-Tune Checklist:
A high quality, timely dynotune here at Tick Performance can be performed only a vehicle that is mechanically sound. Before calling us to schedule an appointment, please perform the following checklist to eliminate many possible issues that could arise during the dynotuning process. Maintenance and repairs are not included in the price of a dynotune, but if needed we can perform any maintenance and/or troubleshooting prior to your dynotune at our regular hourly labor rate. You will be notified of any recommended (or required) parts and/or labor to make your vehicle dyno-ready before any work is performed.
Before your vehicle goes on our DynoJet, please make sure:
The vehicle has at least 1/2 tank of fuel (premium recommended)
The fuel filter is new or very recent
The engine oil has been changed very recently (supercharger oil too, if equipped)
The tires are in good shape and would pass state inspection
The vehicle is road-ready (meaning no alignment, steering, brake issues, etc)
The cooling system is in good working condition and full
Replace your spark plugs if they're old, or if they're the incorrect heat range for your modifications
The MAF Sensor is clean (if equipped)
The air filter is very recent (or washed recently)
Old/dead gasoline should be removed from vehicles that haven't been driven for a long period of time
The battery is in good working condition
The belts are in good condition (and supercharger belt tight, if equipped)
All sensors are in good, working condition with no "Check Engine" lights
The throttle cable is adjusted to allow 100% opening with no hangs (if equipped)
Double-check all fluid levels, make sure you have no major leaks
Click Here to download our DynoJet & Street Tuning Liability Agreement & Modification List. Fill it out to the best of your ability, sign it and bring it with you when you drop your car off.
Lastly, make sure your Nitrous and/or Methanol Injection systems are tested and functional. Our tuning prices do not include repairs made to these systems in order for them to function properly. We reserve the right to refuse any vehicle deemed unsafe (or any vehicle with mechanical faults) from the tuning process until the issues have been repaired.
Dyno Rental:
If you're not wanting any tuning but you're curious what kind of power your car makes, we offer a special rate for you:
3 Dyno Pulls with Wideband O2 Monitoring and Graph Printout: $100.00
If you're wanting to do your own tuning but you don't have your own dyno and you'd like to rent ours, we offer that as well:
Dyno Rental - Per Hour: $125.00
Dyno Rental - Half Day (4hrs): $400.00
Dyno Rental - Full Day (8hrs): $800.00
We require dyno rentals be scheduled in advance (the earlier the better.)
See Our Dyno in Action:
In the video below, Mike's GTO is putting our DynoJet 224xLC to the test, making over 770RWHP reliably and safely!
dynotune, dyno tune, dynotuning, dyno tuning, dyno-tune, dyno-tuning, dynotuned, dyno tuned, dyno-tuned, race tune, racetuning, megasquirt, big stuff 3, bs3, efi tuning, holley efi