Question: What is #TeamTick?
Answer: #TeamTick is the official sponsorship program of Tick Peformance, Inc., a GM performance specialist headquartered in Mount Airy, NC.
Question: What benefits do #TeamTick members enjoy?
Answer: #TeamTick members are officially sponsored by Tick Performance, Inc. and as a result, enjoy exclusive discounts and special promotions on tens of thousands of parts that we offer. As of today, our sponsored pricing consists of the following: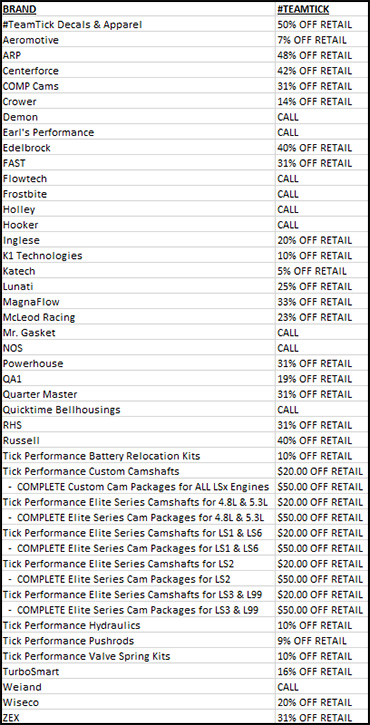 Q: How can I join #TeamTick?
A: There are three different ways you can join #TeamTick:
Be a current or former member of our military, OR a current Police, Fire or EMS worker. To prevent fraud, we do require that you prove your credentials before your discounts can be enabled.
Be a past customer of Tick Performance who has spent $1,000.00 or more with us prior to the launch of #TeamTick, which occured on 11/17/2014.
Purchase our Official #TeamTick Enrollment Merchandise Package. If you don't meet either of the prior two requirements, this is your only option.
If you qualify under requirement 1 or 2, please Create An Account on TickWholesale.com and contact us via email for verification and discount enabling. You can email proof of service (usually an ID photo if permitted, uniform photo showing name, etc) directly to support@tickperformance.com. Military members can also send an email directly from their military email address, just be sure to tell us what email address you created the account using!
We'll enable your discounts and reply to your email as quickly as possible.
Q: What is required of a #TeamTick member?
A: As your sponsor, we expect all #TeamTick members to represent Tick Performance, Inc. to the fullest, in the form of wearing our T-Shirts to events, #TeamTick or Tick Performance decal(s) displayed on the car, and most importantly: sharing the word about Tick Performance, Inc. and #TeamTick with friends. We do reserve the right to modify these requirements in the future.
Q: You're a GM Performance Specialist. Must I be a GM enthusiast or have a GM vehicle to join #TeamTick?
A: No. We are a GM Performance Specialist, yes, but we're full-line retailers for hundreds of performance brands, most of which manufacture parts for non-GM vehicles, too. As a result, we welcome non-GM vehicles with open arms to join #TeamTick.
Q: As a #TeamTick member, will I shop online at TickPerformance.com or TickWholesale.com?
A: Since you'll be buying at a discounted rate, all #TeamTick members will need to shop online at TickWholesale.com. Make sure you're signed in to your account before you place an order! If you're having trouble seeing your discounts or finding the parts you want, simply give our friendly staff a call at (336)719-0599.
Q: Does Tick Performance, Inc. do any financing for #TeamTick members?
A: In an effort to keep overhead costs down (and prices low for everyone) we do not offer "in-house" financing, no, but we do gladly accept PayPal Credit during checkout, a form of financing offered by PayPal. Please click the banner below for details.

Q: I have a question that I don't see answered here. How can I ask?
A: Our friendly staff is excited about this sponsorship program and eager to answer any questions that you may have. Please give us a call at (336)719-0599 or shoot us an email at support@tickperformance.com and we'll happily help!