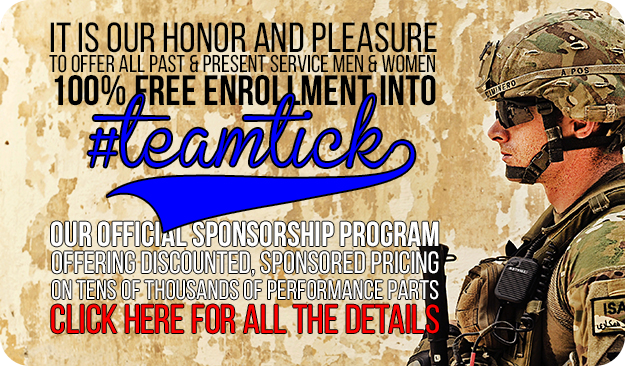 All of us here at Tick Performance Salute You, Honor You and Appreciate Your Service!
Without all of YOU (our service men and women) doing what you do to keep our great nation safe, WE wouldn't be able to do what we do to keep your cars and trucks making TONS more horsepower than they do when stock! As our way of saying "Thanks", we gladly offer all current or former members of our military (and current Police, Fire or EMS workers) enrollment in our #TeamTick Sponsorship Program absolutely free.
Our #TeamTick Program offers discounted, sponsored pricing on tens of thousands of go-fast parts!
For more information on joining #TeamTick, to start the sign-up process and to see all of the discounts that are included in #TeamTick Enrollment, please click here.
Military discounts cannot be combined with any other discount and/or sale, and unfortunately do not apply to any of our T56/TR-6060 Transmission Rebuild Packages or parts.
Special Service Offered:
Let us upgrade your vehicle during your next deployment or temporary duty assignment and we will store your car at our 9000sq/ft facility for FREE until you're able to come home and enjoy it! Our gated premises are safe & secure, and our highly trained staff is loaded with professionals who are the best in the business when it comes to making horsepower. What better place to leave your vehicle?
Minimum purchase of $5000.00 required for Free Storage. Any vehicle shipping either to our facility or from our facility must be arranged by the customer (movecars.com is an excellent resource for auto transport companies.) Call or email us for more information!